Rideshare companies Uber and Lyft like to boast that they help make our streets safer. Their argument is that ridesharing helps reduce the number of drunk drivers and subsequent accidents on the road. But the findings are mixed. According to a 2016 study by the American Journal of Epidemiology, Uber does not have a significant impact on drunk driving fatalities. And a 2018 joint study by the University of Chicago and Rice University found that Uber has actually caused an increase in the number of traffic deaths since its founding.
What's behind this increase? One theory is the increase in traffic congestion caused by Uber and Lyft. Some cities, like New York, have responded by putting a limit on the number of rideshare vehicles allowed on their roads. But here in California, nothing of the sort has happened. So, not only do we have Uber and Lyft drivers clogging our roads as they transport passengers, they also worsen traffic on their way to their pickups. If you've been injured in an accident with an Uber or Lyft vehicle, call the rideshare attorneys at The Dominguez Firm at 800-818-1818 right now for a free consultation.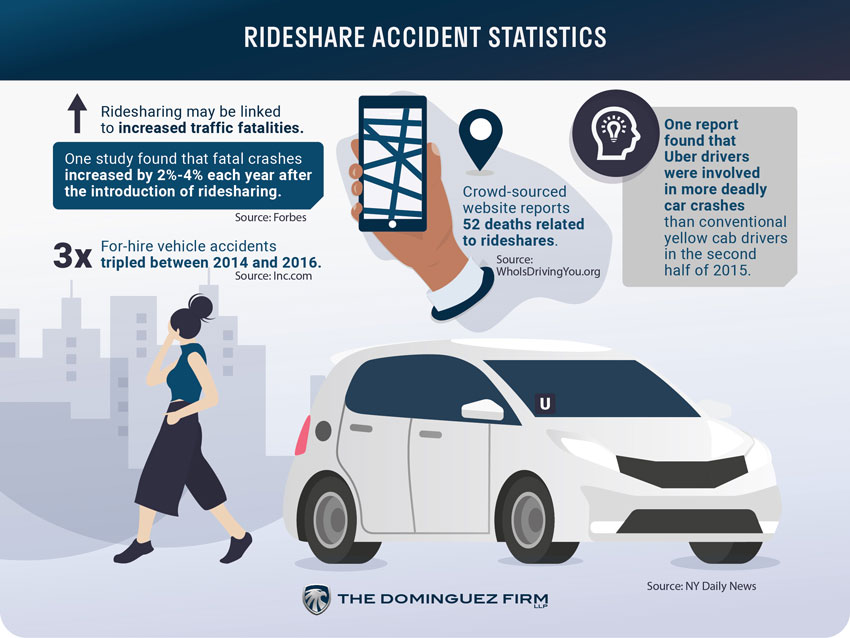 Just how popular are Uber and Lyft?
Uber and Lyft have revolutionized how we get around. Where once taxis were the only player, their share of the ride hailing market has dwindled to only 2%.
Uber accounts for 68% of all consumer trips in passenger vehicles.
Lyft has been rising steadily, and now accounts for about 29% of all rides.
Uber averaged 41.8 million users per month in 2018.
Lyft averaged 23 million users per month in 2018.
Men use Uber slightly more than women, 52% to 48%. But men prefer Lyft by a wider margin, 64% to 35% for women.
People between the ages of 16-24 are the largest users of Uber, at 37%. For Lyft, people in the 25-34 age group are the most frequent users.
Statistics regarding Uber and Lyft drivers.
Drivers appear to prefer driving for Lyft overall. Some drive for both platforms. Other findings include:
For 2017, there were 1.4 million Lyft drivers.
According to Uber's website, there are 3.9 million drivers in 63 countries.
While both Uber and Lyft drivers tend to be under the age of 50, the number of drivers at or near retirement age (62) has increased in recent years.
75% of Lyft drivers were satisfied with their experience driving for Lyft in 2018.
By contrast, 58% of Uber drivers were satisfied driving for Uber.
In April of 2019, Lyft announced more thorough background checks for its drivers. This followed a similar announcement from Uber in 2018. Both rideshare companies now conduct continuous criminal background checks as well as yearly screenings.
Injured in an Uber or Lyft Accident? Call The Dominguez Firm right away!
In spite of all the laws and regulations in place regarding rideshare companies, accidents still happen. If you were injured in an accident with an Uber or Lyft vehicle, call The Dominguez Firm today at 800-818-1818 for a free consultation. It doesn't matter whether you were a pedestrian trying to cause the street, or a passenger in a rideshare vehicle, we can help.
The laws surrounding Uber and Lyft are constantly changing. You need a lawyer with experience handling complex rideshare accident cases. At The Dominguez Firm, we have successfully helped rideshare accident clients obtain the fair and just compensation that they're entitled to, and we can do the same for you! And we promise, you don't pay unless you win, so you have nothing to lose and so much to gain.
My experience was good. They made sure to kept me in the loop and made sure to let me know what was going on the whole time. My mom has used other attorneys and this experience was beyond better. I would definitely recommend them!
— Ashley Magana
The attorneys were always available and answered my questions. I would recommend them to anyone. Zoe is the best!
— Janet Salazar
My experience with The Dominguez Firm and the attorneys was really good. They were very informative and always returned my calls.
— Jocelyn Gonzalez