There are over 200 bones in the human body. If you get into an accident in Los Angeles, you can easily break any of those bones.
Bone fractures can be as simple as a cast and some physical therapy to multiple surgeries and major rehabilitation. Likewise, a broken bone can be a temporary setback or debilitating and even life-threatening.
If you or a loved one suffered a broken bone injury in an accident, contact the personal injury lawyers at The Dominguez Firm for a FREE consultation at 800-818-1818 today.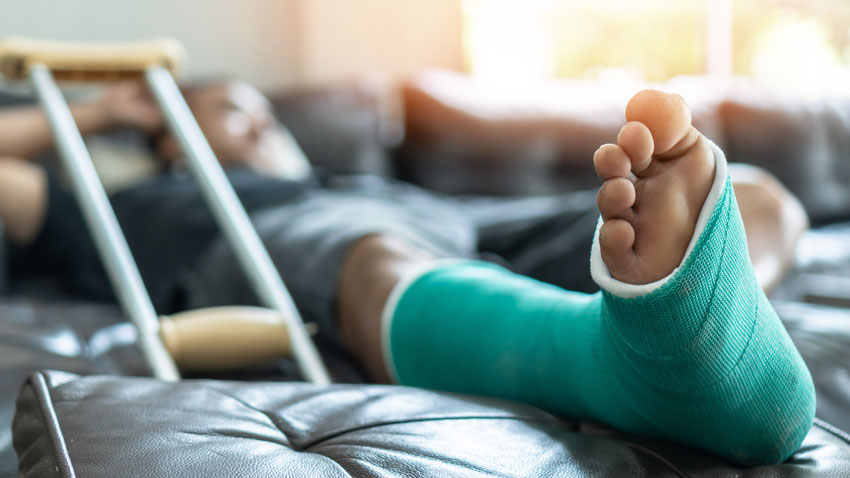 Causes of Broken Bone Injuries
Car accidents may be one of the most common causes of broken bone injuries. Fractures can happen in just about any kind of traffic accident. In a major crash, the victim may sustain catastrophic injuries such as open or compound fractures where the bone sticks out of the skin or crushed bones.
Many other types of accidents can cause broken bone injuries:
Bicycle accidents – Because of their lack of protection, bicycle riders can end up with catastrophic injuries if they get into an accident. Fractures are a common injury for bike riders of all ages. In children, broken bone injuries can impact their growth.
Car accidents –
Construction accidents – Construction workers are around heavy machinery and often work several floors up. They are in danger of falling from high elevations or being injured by equipment, causing arm and leg fractures, fractured bones in their backs and concussions.
Motorcycle accidents – Motorcycle accidents often cause broken bone injuries to riders. This is because like bicycle riders, motorcyclists have little protection when on the road.
Pedestrian accidents – Federal and state governments have introduced ambitious initiatives to reduce pedestrian injuries and deaths. Yet the number of pedestrians injured or killed in accidents keeps going up. Many of these pedestrians suffer broken bone injuries– if they're lucky enough to survive being hit by a vehicle.
Slip and fall accidents – Private property and business owners need to make sure their premises are safe for visitors. This doesn't always happen. Uneven pavements, spills, broken steps and debris can cause slip and fall accidents. Some of the most common injuries resulting from slip and fall accidents are broken wrists, arms, legs and hips.
Truck accidents – Any traffic accident can be upsetting but being hit by a large commercial truck is particularly traumatizing. Those in the passenger vehicle can easily end up with fractures and crushed bone injuries.
Types of Broken Bone Injuries
Broken bone injuries are classified according to the type of fracture sustained. Some of the most common are:
Avulsion fracture — Breaks where a tendon or ligament pulls part of the bone away.
Comminuted Fracture — Breaks where the bone shatters into three or more pieces.
Compound fracture — A break that pushes the bone through the skin.
Hairline fracture — This is also known as a stress fracture. It is a tiny crack within the bone.
Stable fracture — A fracture where there is a clean break. The broken bones align neatly.
Transverse Fracture — A straight line fracture that goes across the bone.
Impact of Broken Bones
When we think of accident injuries, broken bones may not sound so severe. However, any type of fracture can cause major health complications, especially in children and the elderly. Victims may not be able to regain a full range of motion in the impacted area. This can be particularly devastating to a child's development. Also, studies show broken bones can cause a greater risk of death in seniors.
Broken bone injuries can take months to recover from. They may require several surgeries to correct. This means expensive medical bills and often, being unable to work. The mental toll on you and your family can be overwhelming. During this difficult time, it's important to remember you have the right to take legal action against the person who caused your broken bone injury.
Directly below are more details on the compensation you could be entitled to.
Damages for Your Los Angeles Bone Break Accident
Damages, which the legal term for the compensation you may be entitled to for your broken bone accident injury, is broken up into economic and non-economic injuries. Economic damages are exactly what they sound like, compensation for all of your expenses because of your broken bone injury. These can easily be calculated:
Ambulance fees
All medical expenses caused by your broken bone injury
Mental health counseling
Physical therapy and rehabilitation
Property damage, which the cost of repairing or replacing your vehicle
Lost wages if you are unable to work due to your injury
Non-economic damages are meant to compensate you for the emotional losses your accident injuries caused you. While they aren't based on any specific numbers, they usually make up the greatest part of your final verdict or settlement:
Anxiety
Loss of consortium (such as companionship, sex, guidance)
Loss of enjoyment of life
Loss of quality of life
Mental anguish
Pain and suffering
Generally, there is no limit to what can be awarded for non-economic damages for a broken bone injury accident in California.
Broken Bones Are a Possible Consequence of Negligence
Nursing home residents can also break one or more of their bones not caused by an accident. They can fall due to staff neglect. Other times, nursing home residents break bones because of physical abuse from the very people entrusted to care for them.
If you or a loved one broke a bone in a nursing home because of the staff's negligence or abuse, call the nursing home abuse lawyers at The Dominguez Firm right away at 800-818-1818. We offer FREE consultations and are ready to make those responsible pay.
How The Dominguez Firm Can Help Your Broken Bone Injury Case
The Dominguez Firm is a full-service law firm with our own team of award-winning trial attorneys. We won't refer your case out. If insurance companies and their defense attorneys refuse to make a fair offer for your broken bone injury, we have the resources and war chest to go to trial. Not every law firm can say the same.
If you suffered a broken bone injury in an accident, call The Dominguez Firm personal injury lawyers at 800-818-1818 today for a free consultation. And you don't have to worry about the cost of hiring us because we work on a contingency basis. That means we don't charge anything up front. Instead, we receive a percentage of your final compensation.
Plus, if we can't obtain any compensation for you, which rarely happens, you owe us nothing. You win, or you don't pay, so call us today!
My experience was good. They made sure to kept me in the loop and made sure to let me know what was going on the whole time. My mom has used other attorneys and this experience was beyond better. I would definitely recommend them!
— Ashley Magana
The attorneys were always available and answered my questions. I would recommend them to anyone. Zoe is the best!
— Janet Salazar
My experience with The Dominguez Firm and the attorneys was really good. They were very informative and always returned my calls.
— Jocelyn Gonzalez