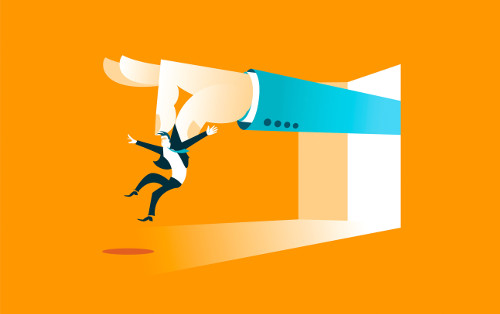 You were seriously injured in an auto accident. You went ahead and hired a lawyer to represent you against the other driver's insurance company. Months have passed. Nothing seems to be happening and no one from the law firm is returning your calls. Even worse, your medical bills are piling up and you still can't return to work. You and your family are constantly stressed, which interferes with your recovery. Should you fire your auto accident lawyer? Keep reading to find out more.
If you suffered serious injuries in a car accident, call the award-winning personal injury attorneys at The Dominguez Firm to see if we can help you. Whether you currently have an attorney or not, we can review your case for free with no obligations. Call us at 800-818-1818 today to see if we can help you.
Do I Even Need a Lawyer for My Car Accident?
If you suffered serious injuries, then the answer is yes. Always remember: insurance companies are a business. Their main goal is to make money, period. Frankly, they only care about their bottom line, not your wellbeing. Their employees are trained to make lowball offers or deny your claim if possible, regardless of the extent of your injuries.
Be aware that serious car accident injuries can cost a victim six and even seven figures over a lifetime, especially if the injuries are permanent. That original offer from the insurance company for $50,000 or even $75,000 will be woefully inadequate in just a year or two. And there's no going back and asking for more money, regardless of how serious your injuries are.
Instead, let the auto accident lawyers at The Dominguez Firm deal with the insurance companies. Our attorneys are skilled negotiators who know all of their attorneys' tactics. You most likely don't. Allow us to fight for your right to the maximum compensation allowed for your injuries so you have one less thing to worry about while you recuperate.
The 5 Most Common Scenarios for Firing Your Auto Accident Lawyer
When you hired your current lawyer, it seemed like the right decision. You liked what you heard and thought the worse was behind you. Now, however, you're having second thoughts and maybe even think you're stuck with a bad attorney. But your attorney works for you, not the other way around. You're not stuck with anything. In fact, you have the right to fire them and hire a new lawyer.
Here are the 5 most common reasons why people fire their auto accident lawyers:
A lack of communication – Does it take several calls and emails to get a response from your lawyer? Are they or their assistant never available? While we all know law firms are busy, they should still return client calls promptly. If you can't get a hold of anyone and don't know what's happening with your case, it may be time to move on.
They have no experience with personal injury cases – You may have hired a family friend or relative to represent you for your car accident case. The problem is, they don't specialize in personal injury cases. Just as you wouldn't go to a pediatrician for dental work, you shouldn't have a family law or general practice attorney handle a personal injury claim.
Your case was referred out – Initially, your current firm promised you top-notch representation. Then, they referred your case out, maybe even without telling you. Some law firms operate on quick turnover. Others don't even have any trial lawyers on staff. Either situation can hurt your case considerably. You want a full-service law firm that won't take the first settlement offer so they can close your case out and move on to the next one. One that has its own in-house trial lawyers ready to fight for the maximum compensation you're entitled to.
Your attorney displays unethical behavior – All lawyers are required to act ethically and with the best interests of their client in mind. When they breach their code of conduct, you have every right to fire them. Examples of this kind of behavior include making decisions regarding your case without informing you or having a conflict of interest.
They're abrupt or even berate you – Attorneys are people too. Some are shy, others are sociable, like in any profession. However, if they're impatient, won't answer simple questions, or even scold you and make you feel uncomfortable, it may be time to look for new representation. After all, you are the client and you shouldn't feel bad or be talked down to when asking any questions.
Before firing anyone, consider making one last effort to communicate with your attorney to try and sort out the problems between you. If that doesn't work, then it's probably time to hire a new attorney or at the least seek a second opinion regarding your car accident case.
Will I Owe My Previous Attorney Any Money If I Fire Them?
If you make the switch early on in your case, it shouldn't be a problem. The vast majority of personal injury lawyers work on a contingency basis. That means your attorney gets paid at the end of your case from a percentage of the proceeds of your final settlement or verdict. However, some attorneys will charge you for the hours they spent working on your case if you fire them after a certain period of time.
Look over your client representation agreement closely to see the exact terms regarding payment. You don't want any surprises. While you can legally switch lawyers, the last thing you need is more legal fees cutting into your settlement or verdict amount. When searching for a new attorney, ask them whether switching firms will reduce your final compensation amount. If they feel they can help you, they will be deal with the other firm without costing you anything.
What Questions Should I Ask When Looking for a New Attorney?
There are several other important questions you should ask when looking for a new attorney. And just as important as asking is noting how they are answered. Is the person you spoke with polite? Do they take the time to answer your questions thoroughly, or do they try and rush you off the phone? First impressions matter. That initial interaction could be a preview of how you'll be treated as a client.
Don't be afraid to ask potential personal injury lawyers any or all of the following 10 questions before hiring them:
How long has your firm been practicing personal injury law in Los Angeles?
Do you have in-house attorneys that can take my case to trial if needed?
Does your firm ever refer cases out to other attorneys? If so, which types of cases are they?
What is the biggest verdictyour firm has achieved?
I don't have medical insurance. Can your firm still help me?
I'm an undocumented immigrant. Can your firm still help me?
How do I pay you?
I can't drive due to my injuries. Do you provide transportation to and from my medical appointments?
Have any of your attorneys been recognized for their work?
Will I still have to pay you if my case can't be resolved successfully?
Besides your attorneys, how many people work at your firm?
You might have other questions related to your specific situation. Again, ask away!
What are the Pros and Cons of Switching Attorneys, Especially if it's Pretty Far Along?
When it comes to the cons of firing your attorney, generally, the longer you wait, the more it can impact your case. There are several reasons for this:
If your case is pretty far along, some other attorneys and law firms won't be eager to take it on. This is probably the biggest con.
Any new attorney will need to get up to speed if your case has progressed a bit. This could take a little extra time.
If you're about to go to trial, the judge may not even allow it.
Switching attorneys early will allow for a smooth transition and help you avoid any additional costs. Of course, life doesn't always go as planned. The firm you originally signed up with may have promised you the moon and let you down badly as the months or a whole year has passed.
if you're unhappy with the representation you're receiving and feel it's jeopardizing your case, switching attorneys may help, no matter how far along it is. The pros of switching attorneys:
A full-service law firm with award-winning trial lawyers gives you a big advantage over a firm that doesn't have the resources to present your case in the strongest way possible.
Switching attorneys will give you peace of mind. If you were seriously injured in a car accident, the last thing you need is stress, especially from your lawyer. Bottom line, if you no longer trust them to handle your case properly, it's probably time to move on.
The actual process of switching attorneys is easy and can be done by your new attorney. You don't have to deal with any of it.
Your best option is to call The Dominguez Firm to talk about your case and see if it's time to make the switch.
How Does The Dominguez Firm Get Paid?
We work on a contingency basis. That means we receive a percentage of your final verdict or settlement when your case settles. You don't have to worry about hidden costs or retainer fees when you become our client. That percentage will be clearly stated in the client representation agreement you sign with us. And it won't change, no matter how much we recover for you.
Call the Auto Accident Lawyers at The Dominguez Firm Today
Being badly injured in an accident is traumatic enough. Having an ineffective lawyer representing you only adds to your stress. Fortunately, you have the right to switch attorneys if you're not satisfied with their services. After all, you want a firm that will fight for every penny of the compensation you're legally entitled to for your injuries.
The Dominguez Firm has been helping car accident victims for over 30 years. In that time, we have won over $750 million* for injured clients. We have our own team of in-house award-winning attorneys ready to help you. Not every law firm does. We have the resources to see your case through to the end and insurance company defense attorneys know that. This gives you, our client, the kind of leverage other law firms can't offer.
If you're unhappy with your current representation, call us for a FREE consultation at 800-818-1818. We can go over your options with you to see if we can step in and help. And we promise: if there is no recovery, there is no fee!