Learn why representing yourself in small claims court can limit your ability to maximize your recovery and why engaging a powerhouse bicycle accident law firm is of vital importance to your healing process.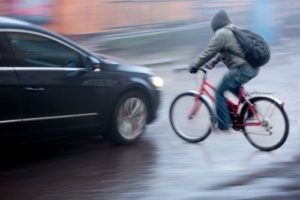 If you've been injured in a bicycle accident, you may think going to Small Claims court is the smart, efficient, and economic option. But like any do-it-yourself endeavor, if you're not a professional, your case could drag on longer than necessary and become very difficult, very fast.
The following are a few common reasons you may think handling your own small claims is a good idea and why it really is not:
I'm not that injured.
Even seemingly minor or insignificant injuries can nag, stay with you, and manifest into something worse if not treated properly. These days, a few x-rays or an MRI, a visit with a doctor, physical therapy, and additional consultations can easily eclipse the small claims maximum recovery of $10,000. You only get one chance to maximize your recovery after a bicycle injury accident and if you swing and miss in small claims, you're stuck with the result for the rest of your life, even if your injuries persist.
I can save money if I do it on my own.
We have been in business in the Greater Los Angeles area for over 30 years. We do not charge any fees if there is no recovery. We know the ins and outs of personal injury law and work with the leading experts in the industry to prove your case and to maximize your recovery. Like all businesses, we charge a fee for our services, but it is well worth it when you can let us handle every single aspect of your case and help you get the proper medical attention you need so you can focus on healing.
How hard can it be?
Here is a sample of the things you have to do to win your case:
Identify and name the proper defendant
Send a demand letter asking for payment
Identify the proper courthouse
Fill out the correct forms properly
File your claim in the correct courthouse
Serve your claim on the defendant
Gather the proof and evidence (such as reports, documents, photos, witnesses) and formulate winning arguments, while you contemplate the opposing side's defenses
Go to the hearing and argue your case in front of a judge and full courtroom
Even if all of that goes smoothly, it is very time consuming, and one little blip can ruin your case, such as missing a deadline or failing to follow a requirement. Not to mention that your recovery is capped at a mere $10,000!
The judge will help me.
While judges are professional and courteous, their job isn't to help or advocate for you. Their job is to enforce the rules and to keep their busy schedules moving along. They see and hear dozens of cases a day and don't care if you win, lose, or draw, so long as the rules were followed and they are able to get to the end of their list of cases for the day.
It was their fault and so I'll win easily.
When you go to small claims court, as you know, attorneys are not allowed to argue on your behalf (unless there's an appeal). If you've managed to get this far in the process, you can bet your opponent has a legal team and a savvy insurance adjustor coaching them from behind the scenes. Insurance companies are only interested in one thing, and that's saving money. They know the tricks of the trade and will prepare their insured for their day in court, including helping them gather evidence and come up with defenses.
If you've been injured, why limit your recovery by going to small claims court where you'll be up against an opponent who has the benefit of an attorney as well as a system that isn't going to help you win? Instead, hire a proven winner that has recovered over $500,000,000 in its 30 plus years in Los Angeles fighting for the rights of accident victims.
The Dominguez Firm has experienced bicycle accident lawyers to assist and get you the compensation you deserve. If there is no recovery, there is no fee! Call now for a free consultation at 800-818-1818.
My experience was good. They made sure to kept me in the loop and made sure to let me know what was going on the whole time. My mom has used other attorneys and this experience was beyond better. I would definitely recommend them!
— Ashley Magana
The attorneys were always available and answered my questions. I would recommend them to anyone. Zoe is the best!
— Janet Salazar
My experience with The Dominguez Firm and the attorneys was really good. They were very informative and always returned my calls.
— Jocelyn Gonzalez