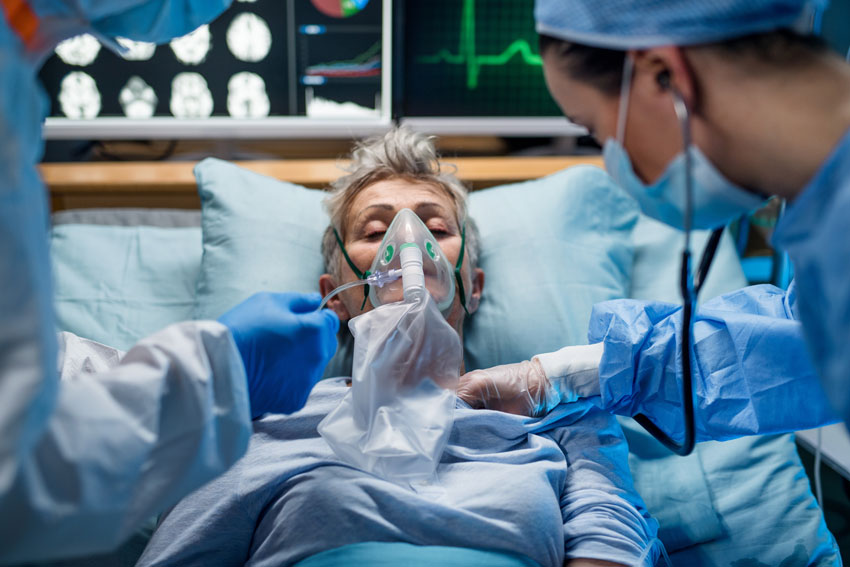 Nursing homes are constantly in the news as coronavirus epicenters in Los Angeles and throughout California. Inadequate staffing and a lack of safety protocols are just two of the many factors that caused the current health crisis in our skilled nursing facilities. If you suffered serious health issues or lost a loved one in a nursing home due to the coronavirus, you can take legal action against those responsible. The coronavirus nursing home lawyers at The Dominguez Firm are available to help you 24/7. Call us today at 800-818-1818 for a free consultation.
Our elderly parents and grandparents are among those most at-risk for contracting Covid-19. The same is true of those with pre-existing conditions such as diabetes or high blood pressure, regardless of their age. If they contract Covid-19, the consequences can be devastating and even deadly. Knowing this, one would think nursing homes would have gone out of their way to provide a safe, controlled environment. But they did the exact opposite. They have allowed the coronavirus to ravage their vulnerable populations.
The numbers are frightening. As of June 2020, over 40% of all Covid-19 deaths in California originated in nursing homes. Below you'll find more information on the legal options available to you if you became seriously ill or have lost a close family member due to a Covid-19 outbreak in a nursing home.
Why did nursing homes become coronavirus hotspots?
Most nursing homes in California had a long history of health code violations well before the Covid-19 crisis began. As a point of reference, 90% of nursing homes in the Golden State received at least one citation for failing to contain infections between 2016 and January of 2020.
The Covid-19 crisis just magnified the deficiencies in nursing home safety policies and procedures. Why did nursing homes become such coronavirus hotspots? There are many reasons for this, but two of the most glaring are chronic staffing issues and poor management.
Staffing issues include:
Chronic understaffing. This led employees to have to attend to many more residents than normal often in less than ideal conditions.
Employees not being screened before allowing them into the nursing home to start their shift.
In many cases, no sick leave policy, or sick pay for nursing home staff. This caused employees who might be sick to still show up for work for fear of losing income or their jobs.
No initial mandatory testing of nursing home employees for coronavirus. This crucial step was not taken until the end of April 2020 in Los Angeles county.
A lack of clear safety protocols for employees to follow at the beginning of the pandemic. This accelerated the spread of the disease.
Nursing home management issues:
Continuing to grant access to volunteers, contractors and other non-essential personnel after the crisis was identified and not screening them either.
Continuing to allow family visits and giving them unrestricted access without screening them.
Allowing birthday parties and other social gatherings.
Not asking new residents about their travel histories before admitting them. Also, not asking if new residents if they had been around someone with Covid-19 before admitting them.
Not separating residents with respiratory problems from other residents.
A lack of Covid-19 testing kits.
Insufficient amounts of safety equipment, such as masks and gloves.
Nursing homes are notorious for having high employee turnover rates. This along with the historically lax oversight of these facilities by state governments contributed to the current coronavirus crisis they are experiencing.
What legal options do I have if I contracted coronavirus in a nursing home?
If you contracted Covid-19 in a nursing home, either as a patient or an employee, and developed health problems as a result, you do have legal options. The Covid-19 nursing home attorneys at The Dominguez Firm have been closely monitoring the legal and health issues associated with this disease and are ready to fight for your rights.
Contracting Covid-19 as a nursing home employee
Every employee, no matter the industry or sector they work in is legally entitled to a safe work environment as mandated by both the federal government and the state of California. When that standard is not met and it causes the employee to suffer major health consequences, then their employer has violated that right.
Healthcare workers in skilled nursing facilities are particularly at risk of developing Covid-19. They account for 8 of 11 health care worker deaths in Los Angeles County. Given the poor working conditions and lack of access to much-needed safety equipment, it's no surprise the number is so high. They are prime examples of workers who have had their right to a safe work environment violated.
If you suffered serious health problems after contracting Covid-19 as an employee of a skilled nursing facility, contact the coronavirus nursing home lawyers at The Dominguez Firm for a free consultation right away.
Contracting Covid-19 as a nursing home resident
The Dominguez Firm has the resources and experience to take on skilled nursing homes and their attorneys. We are well-versed in elder abuse and neglect, having defended the rights of clients in nursing homes for over 30 years. If you or a loved one became seriously ill after contracting coronavirus in a nursing home, call us for a free consultation. We will fight for your rights and all of the compensation that you are legally entitled to.
What can I do if a loved one died in a nursing home or senior care facility due to the coronavirus?
When we place our parent or grandparent in a nursing home, we also trust the facility will take proper care of them. Losing someone dear to us due to someone else's incompetence and negligence is incredibly painful. And while no amount of money will ever make up for your loss, bringing legal action against those responsible can help change how nursing homes operate and provide some measure of closure for you and your family.
Call The Covid-19 Lawyers at The Dominguez Firm
When California nursing homes were called out for their terrible safety record, they deflected the blame or simply refused to take responsibility. Now, as Covid-19 cases continue to mount in skilled nursing facilities, the response of nursing home administrators and owners has been to ask Governor Gavin Newsom for immunity!
This lack of accountability and a defiant attitude cannot continue unchecked. The public outcry against this request for immunity was loud. Fortunately, it appears the governor will not grant nursing homes immunity. The most vulnerable members of our population and the brave employees who assist them deserve equal protection under the law.
The Covid-19 nursing home attorneys at The Dominguez Firm are ready to help you obtain justice. Call us at 800-818-1818 for a free and confidential consultation today. And if you think you can't afford an attorney know that we stand by our promise, you win, or you don't pay. So, call us today.
My experience was good. They made sure to kept me in the loop and made sure to let me know what was going on the whole time. My mom has used other attorneys and this experience was beyond better. I would definitely recommend them!
— Ashley Magana
The attorneys were always available and answered my questions. I would recommend them to anyone. Zoe is the best!
— Janet Salazar
My experience with The Dominguez Firm and the attorneys was really good. They were very informative and always returned my calls.
— Jocelyn Gonzalez