Boating accidents often result in significant injuries and, in some cases, death. If you or a loved one has been injured or killed in a boating accident, you must act fast and contact a personal injury attorney with experience in boating accidents to ensure the accident is properly investigated, evidence is retained, and witnesses are secured.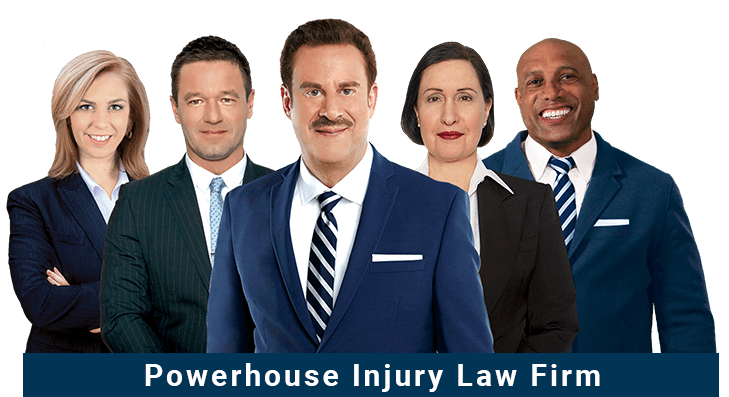 Unlike an accident on land, boating and watercraft accidents present unique challenges as they typically lack witnesses, not to mention the vessel or evidence may have sunk. These issues along with questions of maritime, state and federal laws necessitate the skill and expertise of a boat accident lawyer to champion your fight.
This is why it is vital to engage a powerhouse law firm with the resources and knowledge to work on your case. We have experienced and aggressive boat accident lawyers who will fight for the justice and compensation you deserve through a boat accident lawsuit.

Boating accidents can include any of the following watercraft:
Motorboats
Sailboats
Personal watercraft (Jet skis, Sea-Doo, WaveRunner, etc.)
Cruise boats and ships
Ferries
Commercial freighters
Boat/watercraft versus a swimmer
Boat and watercraft accidents typically occur through operator inattention or negligence, but can also result from defects in the design, manufacture, and/or maintenance of the boat, its components, or its safety devices. And in some cases, it's a combination of operator negligence and issues with the boat itself that cause a boat accident.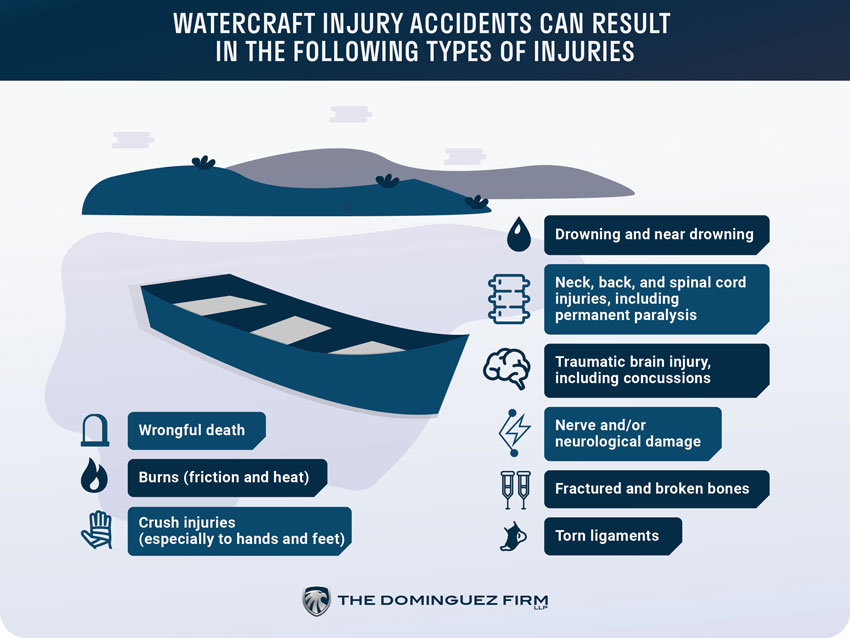 Watercraft injury accidents can result in the following types of injuries:
Drowning and near-drowning
Neck, back, and spinal cord injuries, including paralysis
Traumatic brain injury, including concussions
Nerve and/or neurological damage
Fractured and broken bones
Torn ligaments
Wrongful death
Burns (friction and heat)
Crush injuries (especially to hands and feet)
Accident liability (fault) arising out of a boating accident is usually based on negligence, which is when someone has breached their duty of care for the situation and that breach results in your injury.  Other theories include a product liability lawsuit if your watercraft had a defect that caused your injuries.  It is important to also keep in mind that California is a comparative fault state, which means you can still recover even if you contributed to the accident, but your total financial recovery will be reduced by the percentage you are deemed to be at fault.
Choosing an Experienced Boating Injury Attorney
With our waterways and the nearby ocean here in the Greater Los Angeles area, many people take to the water, whether it's for relaxation, fishing, transportation, or competition. It is an American pastime and one of the best escapes from our busy lives on land.
When the unimaginable happens, and you or your loved one is involved in a boat accident, you need a skillful injury lawyer on your side. Do not hesitate to call us right away for a free consultation at 800-818-1818.
My experience was good. They made sure to kept me in the loop and made sure to let me know what was going on the whole time. My mom has used other attorneys and this experience was beyond better. I would definitely recommend them!
— Ashley Magana
The attorneys were always available and answered my questions. I would recommend them to anyone. Zoe is the best!
— Janet Salazar
My experience with The Dominguez Firm and the attorneys was really good. They were very informative and always returned my calls.
— Jocelyn Gonzalez