The Dominguez Firm Salutes Aniya Misher, the Winner of Its Fall 2022 Collegiate Scholarship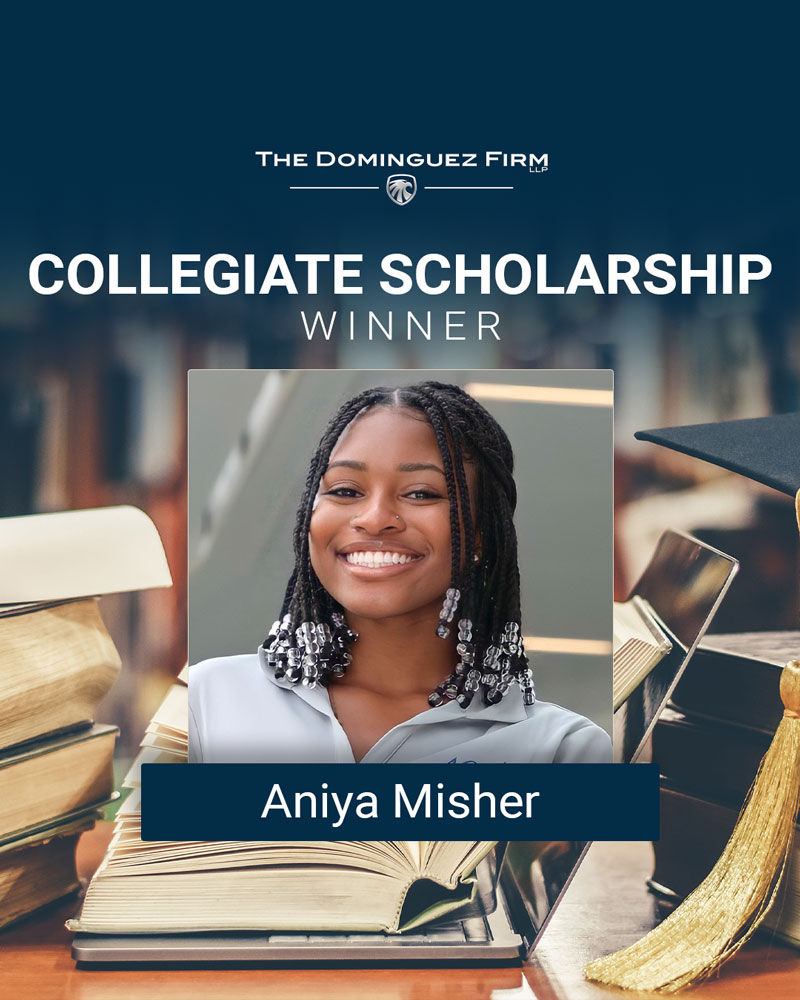 The Dominguez Firm received a record number of submissions for our fall 2022 Collegiate Scholarship. We know the events of the last two years have been difficult and beyond anyone's control. This has been especially true of those looking to continue their education or are already in college. That's why our CEO and Managing Partner J.J. Dominguez has held steadfast in his continued belief that exceptional students should be recognized and supported.
Your stories of perseverance and dedication moved and inspired us. We thank you for sharing them with us and sincerely wish all of you the best of luck in the future. There were many outstanding candidates from all over the country to choose from. Our team went over every single submission thoroughly before deciding on our Collegiate Scholarship winner, Aniya Misher.
Aniya's submission stood out for its originality, technical prowess and empowering message. Due to her father being in the military, Aniya and her family were frequently forced to move. To help her cope with the stress of these constant changes, she began shooting videos at a very young age. While still in grade school she was already skilled enough to post stop-action videos on YouTube. Years later, a high school class in video production made her realize how much she also enjoyed informing people on important civil matters.
Today, Aniya is a student at North Caroline A&T State University where she's working towards her bachelor's degree. Her goal is to educate her peers while creating entertaining content. She boasts impressive grades and somehow still finds time to participate in several community services-related activities. "I am beyond excited and sincerely honored to be a Dominguez Firm Scholarship recipient. As the oldest of five children, and a young Black woman, it is important that I set an example to others. I am thankful to the Dominguez Firm for believing in my ambitions, and I plan to continue my success to also give back to others in the future," Aniya said upon learning she had been selected.
Congratulations Aniya and we look forward to seeing your work in the future!
The Dominguez Firm is a powerhouse personal injury and employment law firm that has been helping clients for over 30 years. The firm's award-winning attorneys have recovered over $1 billion* for deserving clients with a focus on outstanding customer service. For a free consultation, call 800-818-1818. Available 24/7.