How to Avoid Accidents During Black Friday
During Thanksgiving we gather with family and loved ones, gorge on delicious traditional dishes, and kick back for afternoons of football and naps. It also signals the imminence of the biggest shopping event of the year: Black Friday. Millions of consumers flock to stores to take advantage of door-buster deals and get an early start on Christmas shopping.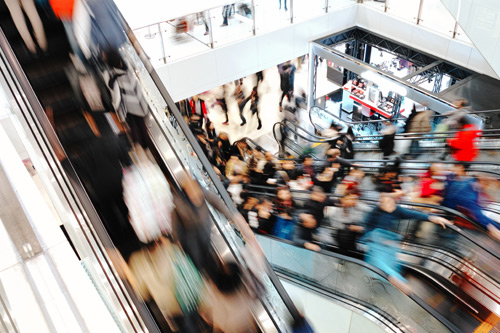 Stores capitalize on this consumer fervor by offering limited quantities of discounted goods, resulting in shoppers standing in line for hours, often beginning as soon as Thanksgiving dinner is over.
Black Friday is also associated with sparking borderline riots, as deal-seekers trample over each other to grab toys, appliances, electronics, and other discounted items. Large crowds in small spaces have consistently proven to be dangerous, or even deadly. Viral videos of middle-aged parents getting into fistfights over the hottest toy of the season are at once comical, and scary. And Black Friday also harbors a less-publicized danger: car accidents increase by 34% on the Friday after Thanksgiving, compared with the two weeks before and after. Here's what you need to know about avoiding accidents during Black Friday.
1) Shop Online
Nearly all major retailers have begun offering Black Friday discounts through their online stores, making a trip to the brick-and-mortar store and waiting in long lines unnecessary. Of course, the siren song of door-buster deals can be difficult to overcome. But very often, these deals can be replicated by spending a little extra time searching around the internet from the comfort and safety of your home. Shopping online is the safest way to avoid all Black Friday-related accidents.
2) Plan Ahead
If you absolutely need to participate in the brick-and-mortar Black Friday rush, do your best to plan ahead to minimize your time jostling with the crowds. Research which deals you want to take advantage of in advance of Black Friday. If you are the type of consumer, who likes to handle or test-run a product before purchasing, go to the store and do so in the days or weeks before Black Friday. This will also familiarize you with where in the store your desire product is located, absolving you of having to run back and forth through the aisles among crowds of shoppers to try and find what you're looking for. When the store opens, get in and out as quickly as possible to minimize your exposure to Black Friday-related accidents.
3) Be Prepared
Most of the injuries caused by Black Friday events are due to slips, trips, falls, and crowd crush—in other words, they are accidental injuries resulting from the chaos of cramming too many frantic people into a tight space. Wear sturdy shoes with a non-slip sole to prevent falling on hard and slippery store floors. Be alert, watch where you are going, and constantly keep an eye out for debris that might pose a tripping hazard. Try to remain calm—frustration and fatigue can contribute to trips and falls.
4) Get Enough Sleep
Retailers often begin Black Friday door-buster sales at odd hours, either late on the evening of Thanksgiving or early the following morning. This means an influx of sleep-deprived drivers on the roads and in parking lots, which in turn means conditions ripe for car accidents. Be sure that you are well rested before getting behind the wheel to check out the holiday deals, and be extra vigilant for inattentive drivers while on the road and in parking lots.
If Injured, Contact a Black Friday Injury Attorney
Even if you observe all of the above precautions, there is no way to guarantee against accidents on Black Friday. If you are injured on the grounds of a retail establishment conducting a Black Friday promotion, you may be entitled to compensation under laws governing negligence or premises liability. It is highly recommended that you contact a Black Friday accident attorney to learn about your options for legal recourse. At The Dominguez Firm, we have helped thousands of clients file successful personal injury claims. Call us today to find out how we can help you at 800-818-1818.