LATLC Virtual Poker Night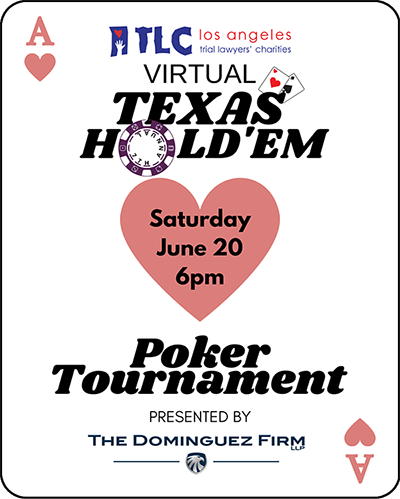 This past Saturday, June 20th, Attorney J.J. Dominguez sponsored a virtual poker tournament hosted by the Los Angeles Trial Lawyers' Charities (LATLC). The poker tournament was originally scheduled to be a part of LATLC's annual gala but was transformed into a virtual experience due to Covid-19. The funds raised went towards LATLC College Scholarships for the Class of 2020.
This year's high school seniors have already endured so much. Unlike every other class before them, this class couldn't attend their graduations or proms. J.J. and LATLC wanted to make sure access to scholarships would not be added to their list of cancellations. That's why LATLC and J.J. were determined to move forward with this virtual poker night.
J.J. explained why he was stepping up and sponsoring the poker tournament. "All of us at The Dominguez Firm are committed to making a difference in the community, especially during these difficult times. We're proud to again partner with LATLC's event this year to help deserving students obtain scholarships."
The Dominguez Firm has a strong connection to LATLC. Both J.J. and Attorney Olivier Taillieu are honorary LATLC board members. Last year, The Dominguez Firm was also involved in LATLC's Casino Night and Texas Hold 'Em Poker Tournament. The firm sponsored the Outdoor Terrace Lounge, which helped LATLC provide 10 college scholarships and support for over 100 youth sports organizations.
LATLC supports dozens of local charities. It has contributed close to $4.7 million to these charities since its founding in 2006. Due to the current pandemic, many of the causes that LATLC supports are now in need of even more help.
Representing The Dominguez Firm in the poker tournament were Attorney Hussein Saleh and Jonathan Sanchez from the Marketing Department. There was also a silent auction to win four live lobsters flown in directly from Maine. Overall, it was a great time for a great cause. Despite the current crisis, The Dominguez Firm and LATLC stand firm in their commitment to helping the local community.