Aviation accidents are catastrophic, usually resulting in mass fatalities or severe injuries. Whether it's a major injury or the loss of a loved one, an aviation accident will leave lasting emotional and physical pain. When the unthinkable happens and you or a loved one become the victim of an aviation accident, you can count on The Dominguez Firm to fight for the justice and compensation you deserve.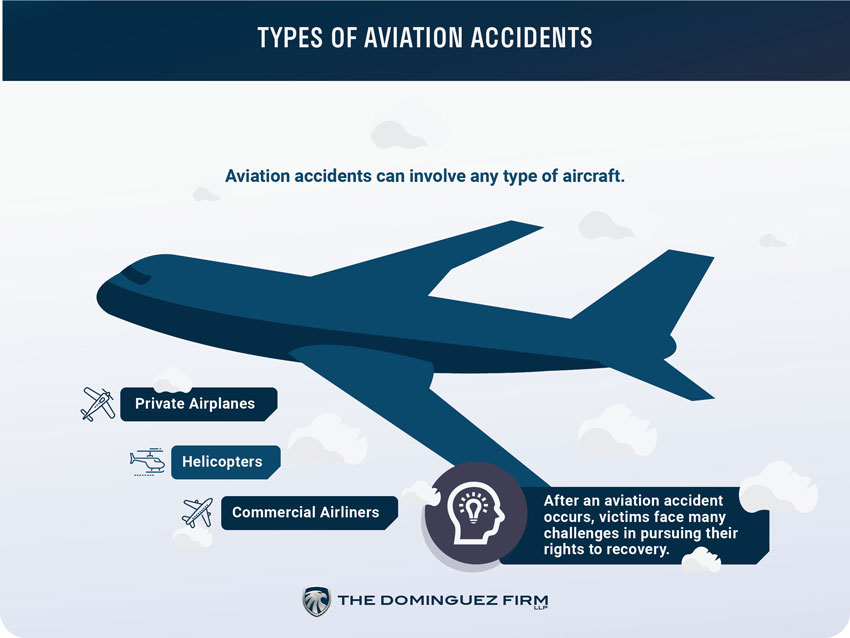 Aviation accidents can involve any type of aircraft, including commercial airliners, private airplanes, as well as helicopters. After an aviation accident occurs, victims face many challenges when pursuing their rights to recovery.
Why Aviation Accident Cases are Complex
Some of the issues you will face after an aviation accident include complicated investigations. These typically involve multiple agencies, such as the National Transportation Safety Board and they can take months or years to complete. Another issue is targeting the correct at-fault parties, which can also be very complex. Potential defendants can include:
The owner/operator
Ground crews
Maintenance companies
The companies that design and manufacture the aircraft or its components, and others.
When you combine these issues with the fact that a plane or helicopter crash can occur in a foreign jurisdiction and have many victims, questions of law and insurance issues abound.
You Need The Dominguez Firm by Your Side
Given the complexity of aviation accident cases, it is vital that you engage a powerhouse Los Angeles law firm to aggressively fight for you. When you have so much at stake, you cannot rely on just any aviation lawyer to navigate the many issues involved in these cases. The Dominguez Firm has the resources, reputation, and trial lawyers to put you on equal footing with the powerful aviation industry attorneys. Moreover, we work with the best accident investigators and aviation expert witnesses to ensure every detail is considered.
Our skillful and experienced lawyers are fully prepared to take your case to trial. It's this assertive mindset that will benefit you throughout the entire case, including during settlement negotiations. The threat of a trial and the bad publicity it can bring often motivates defendants to try to settle aviation cases. Without the threat of trial, however, you will probably be at their mercy.
There are many important questions and decisions that must be considered and navigated through during an aviation injury lawsuit. That's why an accomplished, aggressive aviation accident injury lawyer is a must. You only have one shot to get the justice and compensation you deserve. Do not put your case in the hands of just any lawyer.
Give us a call for a free consultation at 800-818-1818.
My experience was good. They made sure to kept me in the loop and made sure to let me know what was going on the whole time. My mom has used other attorneys and this experience was beyond better. I would definitely recommend them!
— Ashley Magana
The attorneys were always available and answered my questions. I would recommend them to anyone. Zoe is the best!
— Janet Salazar
My experience with The Dominguez Firm and the attorneys was really good. They were very informative and always returned my calls.
— Jocelyn Gonzalez