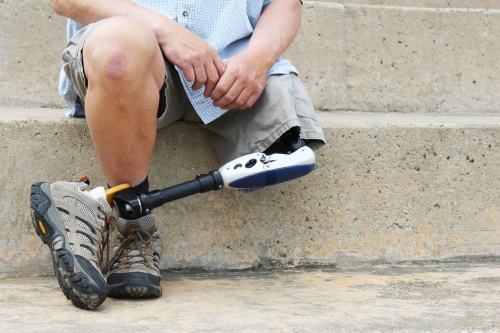 If you're the victim of a traumatic amputation, you know that nothing in the world can replace a loss of limb, whether it be a finger, toe, arm or leg. Every day you are reminded of the person or accident that changed your life forever.

The scarring is not just physical, but mental and emotional as well, including depression, fear, anger, and phantom limb pain.
Amputations, whether in Greater Los Angeles or anywhere, typically occur in a traumatic accident, like a vehicle rollover or motorcycle accident, or in the workplace when a machine malfunctions or the proper safeguards were not in place.
Costs from an Amputated or Lost Limb
If someone is negligent and causes you a loss of limb, you need an experienced amputation lawyer to fight for you to make sure your future financial needs are met so you can focus on recovering and living a full life.
When you become an amputee in the blink of an eye, it is important to know you are not alone.
According to the Amputee Coalition, nearly 2,000,000 people live with limb loss in the United States and 45 percent of those are trauma based.
As you may know, the costs of a prosthetic alone can be overwhelming, as it usually costs between $5,000 and $50,000 and must be replaced every three to five years because of wear and tear.
Furthermore, when you consider the need for top-notch doctors, physical therapists, occupational therapists, psychologists and other medical professionals, the costs of being an amputee escalates tremendously. In an amputation injury case your pain and suffering and loss of enjoyment of life and emotional damages may be highly significant.
Amputation Injury Case Experience
While money in no way can replace your limb, it is the one thing that can help you afford the team of specialists and prosthetics that will allow you to live a high quality of life. In our system, you get one shot at getting the financial security you will need after a traumatic amputation and that is why choosing the best amputation injury lawyer is essential. Your path to a substantial award can be complex and may include a case in the workers compensation system, the civil courts, or both.
If you're a victim of a traumatic amputation, please do not hesitate to call us for a free consultation at 800-818-1818. We are experienced amputation accident injury lawyers that will fight to get you the justice and compensation you deserve through an amputation injury lawsuit.